Bouma Ekghor Serial Cast, Story, Wiki, Actors Names with Photos, Star Jalsa TV
Bouma Ekghor on Star Jalsha Wiki/Wikipedia, Release Date, Story, Promo, Upcoming Story, Twists, Spoilers, Gossips, Written Updates, Review, Hit or Flop, TRP Ratings:
Star Jalsha is about to bring a new family drama on the television screen from 2nd May 2022 named "Bouma Ekghor".
Bouma Ekghor will be a comedy and family drama that will revolve around the life of a daughter-in-law (Bouma) named Titli.
The soap opera will release on the screens of Star Jalsha from 2nd May onwards every evening at 6:30 PM.
The main protagonist, Titli, will be played by Sushmita Dey who was seen earlier playing the role of Apu in Zee Bangla's "Aparajita Apu".
The male lead of Bouma Ekghor will be played by Debojyoti Roy Chowdhury who was seen earlier as Manish Banerjee in the "Falna" serial.
The cast of Bouma Ekghor will also include many known faces of the Bengali entertainment industry including Chaiti Ghosal, Nibedita Mukherjee, Riya Dutta, Jina Tarafdar, Laboni Bhattacharya, and Somasree Naskar.
Here is the detailed description of the serial Bouma Ekghor on Star Jalsha.
Bouma Ekghor on Star Jalsha Details
| | |
| --- | --- |
| Serial Name | Bouma Ekghor |
| Serial Name in Bengali | বউমা একঘর |
| Genre | Family/Comedy |
| Bouma Ekghor Release (Starting) Date | 2nd May 2022 |
| End Date | Ongoing |
| Bouma Ekghor Telecast Days | Monday to Sunday |
| Telecast Timings | 6:30 PM |
| Running Time | 21-24 minutes |
| Channel | Star Jalsha |
| OTT Platform | Disney+Hotstar |
| Language(s) | Bengali |
| Production Company | Tent Cinema |
| Producer | Sushanta Das |
Bouma Ekghor Full Cast, Real Names, Role Played, Actors Names with their Character Names
| | |
| --- | --- |
| Bouma Ekghor Cast | Bouma Ekghor Character/Role Played |
| Sushmita Dey | Titli (Female Lead) |
| Debojyoti Roy Chowdhury | Raju (Male Lead) |
| Chaiti Ghosal | TBA |
| Nibedita Mukherjee | TBA |
| Riya Dutta | TBA |
| Jina Tarafdar | TBA |
| Laboni Bhattacharya | TBA |
| Somasree Naskar | TBA |
Bouma Ekghor Entire Cast, Actor's Names with their Photos
1. Sushmita Dey (Titli)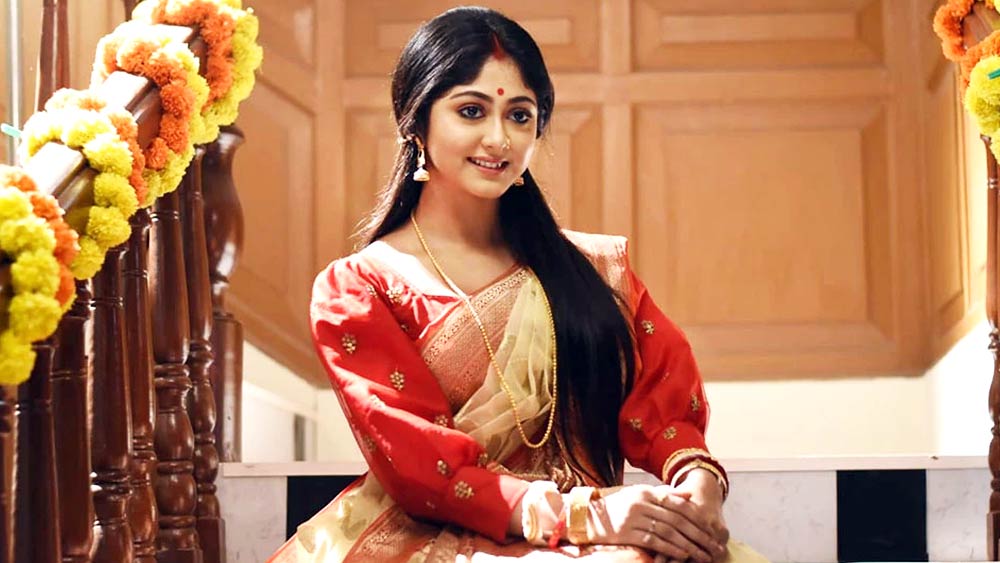 2. Debojyoti Roy Chowdhury (Raju)
3. Chaiti Ghosal
4. Nibedita Mukherjee
Bouma Ekghor Story/Plot
The story of Bouma Ekghor revolves around the daughter-in-law of a family where the mother-in-law wants her daughter-in-law to be a working woman with a job.
Raju, who is the son of that family, is unemployed and always competes with his elder brother's family despite being not so well-off.
The rivalry between the families takes an upsurge when both brothers compete to find the best wives for themselves.
Titli is a cheerful girl who dreams of traveling to Dubai with her husband after her marriage without any tension or pressure from work.
However, Titli marries Raju without his family being aware that she does not have a job for herself.
The story of Bouma Ekghor will revolve around the comedic act of Titli acting like a working woman in front of the other family so that they get envious of Raju's choice.
Titli will search for a job to fulfill her mother-in-law's demand of being a self-sufficient and earning daughter-in-law.
Bouma Ekghor TRP Rating
Bouma Ekghor is expected to get a good TRP rating due to its comedic plot engaging the portrayal of the characters.
Well-known faces like Sushmita Dey and Debojyoti Rou Chowdhury are also expected to contribute to making the serial popular among the audience.
Family dramas are loved among the Bengali audience and receive immense love from the viewers.
Bouma Ekghor will also stand up to its ground and gather high TRP ratings from the viewers with its comedy-infused family drama.
Bouma Ekghor Teaser/Trailer/Promo
Frequently Asked Questions (FAQ)
Q. When is Bouma Ekghor going to be released on the television screens?
A. Bouma Ekghor is going to be released on 2nd May 2022 at 6:30 PM on Star Jalsha.
Q. Who are the main leads of Bouma Ekghor?
A. Sushmita Dey and Debojyoti Roy Chowdhury are the main leads of Bouma Ekghor.
Q. Where can I watch Bouma Ekghor online?
A. You can watch Bouma Ekghor online on the OTT platform Disney+Hotstar.