Kannana Kanne Serial Cast, Wiki, Sun TV Timing, Story, Actors Photos, Episodes
Kannana Kanne Sun TV Serial Cast, Wiki/Wikipedia, Release Date, Actors, Actresses, Upcoming Story, Future Twists, New Spoilers, Gossips, Latest News, Written Updates, Hit or Flop, Review, TRP Ratings:
Kannana Kanne is a show telecasted on Sun TV which is a story of a beautiful and well-raised girl Meera.
This daily serial is about Meera who yearns for the love of her father, who hates her since childhood.
The audience is highly attracted to the serial by its emotional story, the daughter's love for her father, the family connection and the hurdles Meera crosses to gain her father's love.
The story Kannana Kanne revolves around Meera, her love for her father, and the sacrifices she makes for pleasing her father and protecting the happiness of her family.
Since its launch date, Kannana Kanne has never failed to grab the audience's attention and placed itself in the top 10 TRP rating tables.
Below are the details about the show Kannana Kanne. All the information regarding the show cast, Twists, Upcoming Story, Spoilers, Gossips, written updates, TRP Ratings and more.
Kannana Kanne (கண்ணான கண்ணே) Serial Details
| | |
| --- | --- |
| Serial Name | Kannana Kanne |
| Serial Name in Tamil | கண்ணான கண்ணே |
| Genre | Family, Love Drama |
| Language | Tamil |
| Kannana Kanne Start Date | 2nd November 2020 |
| End Date | Ongoing |
| Kannana Kanne Telecast days | Monday to Saturday |
| Telecast timings | 8.30 PM |
| Channel | Sun TV |
| OTT platform | Sun NXT |
Kannana Kanne (கண்ணான கண்ணே) Serial Team Details
Production Company

Sun Entertainment

AR Film World

Director

Dhanush

Creative Director

KV Kiran Kumar

RR Eshwar

Title Track

Kannana Kanne

Number of seasons

1
Sun Tv Kannana Kanne Full Star Cast, Roles, Real Names, Characters Names, Actor, Actresses
| | | |
| --- | --- | --- |
| Real Name | Character Name | Role Played |
| Nimeshika Radhakrishnan (நிமேஷிகா ராதாகிருஷ்ணன்) | Meera (மீரா) | Female Lead |
| Rahul Ravi (ராகுல் ரவி) | Yuva/Yuvaraja (யுவா/யுவராஜா) | Male Lead |
| Babloo Prithviraj (பப்லு பிருத்விராஜ்) | Gautamkrishnan (கௌதம்கிருஷ்ணன்) | Meera's father |
| Vinodhini (வினோதினி) | Yamuna (யமுனா) | Meera's Step Mother |
| Akshitha Bopaiah (அக்ஷிதா போபையா) | Preethi (ப்ரீத்தி) | Meera's half-sister |
| Maanas Chavali (மானஸ் சாவாலி) | Santoshkumar (சந்தோஷ்குமார்) | Preethi's husband |
| Sulakshana (சுலக்ஷனா) | Dhanalakshmi (தனலட்சுமி) | Gautam's mother |
| Livingston (லிவிங்ஸ்டன்) | Kodeeshwaran (கோடீஸ்வரன்) | Yuva's father |
| Shanthi Anandraj (சாந்தி ஆனந்தராஜ்) | Pushpa (புஷ்பா) | Yuva's mother |
| Preethi Sanjeev (ப்ரீத்தி சஞ்சீவ்) | Vasuki (வாசுகி) | Meera's aunt |
| Shanthi (சாந்தி) | Renuka (ரேணுகா) | Kodeeshwaran's sister |
Kannana Kanne Lead Actor/Actress Name with Photos:
Nimeshika Radhakrishnan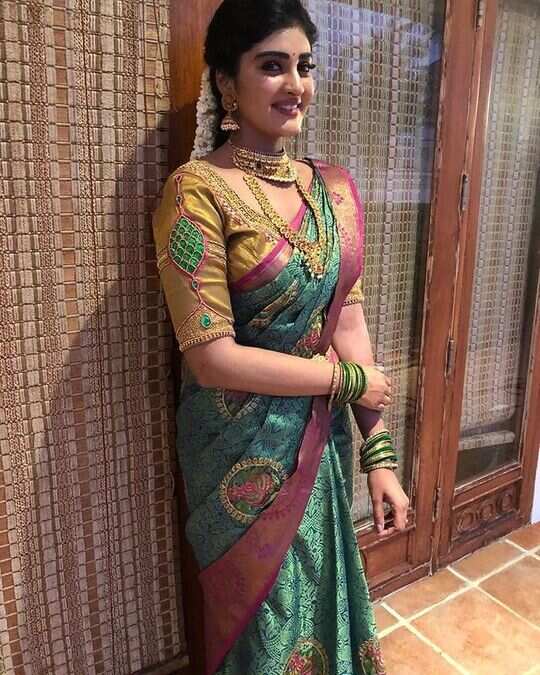 Rahul Ravi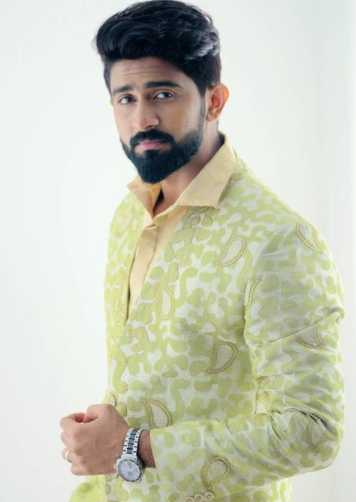 Sun TV's Kannana Kanne Serial Story/Plot:
Gautam and Kausalya have a wonderful marriage. Kausalya becomes pregnant, but she soon discovers that she is suffering from difficulties.
Gautam hears about that from Kausalya's gyneecologist and opposes letting the baby grow, but Kausalya refuses him. However, she dies while giving birth to her daughter.
As a result, he begins to blame and despise the child. His mother, on the other hand, raises the child and names her Meera.
Meera, a lovely and well-bred woman, has reached adulthood. But her father, Gautam, still despises her and holds her responsible for the death of his first wife.
Meera shares a home with her grandmother, stepmother, and stepsister, all of whom are working hard to bring Meera and her father back together. Meera yearns for her father's affection and attention.
The story falls apart when Meera and Yuva fall in love with each other, who is later engaged to Meera's stepsister. What happens to Yuva and Meera's relationship and how Meera manages to gain her father's affection is the upcoming story.
Kannana Kanne TRP ratings:
Kannana Kanne has been a massive success and a resounding hit for the Sun network team as a whole. The serial captured the attention of all Sun TV watchers and has managed to achieve great significance in the TRP ratings.
The emotional storyline and the unexpected twists of the serial have been the major reason for its success of the serial. The selection of cast has been another big shot for this serial.
To present, the serial has never failed to maintain its spot in the Top ten TRP rating ranks. This is one of Sun TV's most popular serials, having a large fan base.
The serial is expected to attract still more audiences towards it with its upcoming plots and interesting storyline.
Kannana Kanne Serial on Sun TV Trailer/ Teaser/ Promo
Frequently Asked Questions (FAQs)
Q. Who is Rahul Ravi?
A. Rahul Ravi is an Indian Television artist and is well known for his role in the Tamil serial Nandini.
Q. Who is playing the role of Yamuna now?
A. The role of Yamuna previously played by Nithya Das is now being played by Vinothini.
Q. Who has played the role of Kowsalya?
A. The role of Kowsalya was played by Kollywood actress Ineya.